History of the Barony of Winter's Gate
Fools of Winter's Gate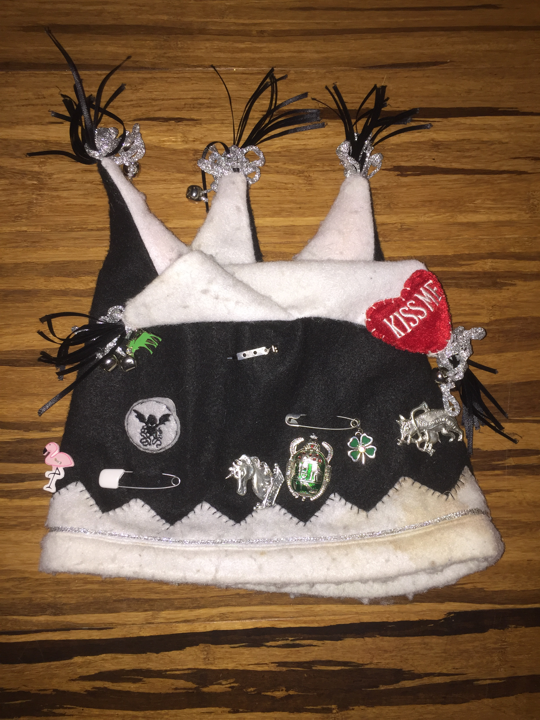 Fool's Hat as of Autumn of LIV (2019)
At Fool's Revel, a Court Fool is Chosen (by constest or appointment) by the Baron and/or Baroness, and Reigns as Fool of Winter's Gate for 1 year or more. Each Fool adds something to the Fool's Hat.
Hat made by Baroness Margery for the first Fool's Revel.
The Fool Contestants need not be a local member of the Barony.

Latest at the Top

| | | |
| --- | --- | --- |
| (Covid) | | |
| April 1, LVII (2023) | Merewyn | TBD |
| September, LIV (2019) | Khevron | Scarab |
| April, LII (2018) | Scott | ? |
| April, LI (2017) | Sapphira | ? |
| April, L (2016) | Hans | Raven |
| April, XLIX (2015) | Sapphira (& Elena) | Pig w/Bagpipes |
| April, XLVIII (2014) | Khevron | Green Moose |
| April, XLVII (2013) | Khevron | Moose Sign |
| April, XLVI (2012) | Khevron | Cthulhu |
| April, XLV (2011) | Magda | ? |
| April, XLIV (2010) | Magda | Mermaid |
| April, XLIII (2009) | Gretke | Jolly Roger |
| April, XLII (2008) | Magda | Flamingo |
| April, XLI (2007) | Micah | "Kiss Me" |
| April, XL (2006) | Magda | Rolling Pin |
| April, XXXXIX (2005) | Clover | 2 Flamingos |